The Perfect Valentine's Day Gift For An Unforgettable Day
February 14 again! So be sure not to forget it: Valentine's Day! Let love shine with a unique Valentine's Day gift from our range of premium, personalised products. Choose from our selection of unique gifts, such as specially selected spirits, organic scented candles, or bath salts, each carefully customisable to convey a unique message. Make this Valentine's Day truly special by adding a personal touch to your gift to show your deep appreciation for your loved one. Through makeyour.com's handy online tool, you can turn both liquor bottles and scented candles into an original Valentine's Day gift. One that lets you fire two love arrows: a personal declaration of love and a savoury sip or romantic mood diffuser to enjoy together.
Why choose makeyour.com?
With more than 100,000 satisfied customers, we are known for unique gifts for unique gift moments
Only products of the highest quality
Razor-sharp printed gifts
Choose between more than 50 designs
Only products of the highest quality
Exclusive spirits recipes
Beers made in collaboration with brewery Van Steenberge
Natural Soy wax-based scented candles
High-class wines directly from small-scale winemakers
Paraben-free bath products
We guarantee quality and only offer products we fully support ourselves. Thus, our drinks and other products are made with love in collaboration with small-scale artisanal partners. Each product passes through extensive quality testing. For us, the content is at least as important as the looks of your gift. So you can be sure that your gift is of high quality.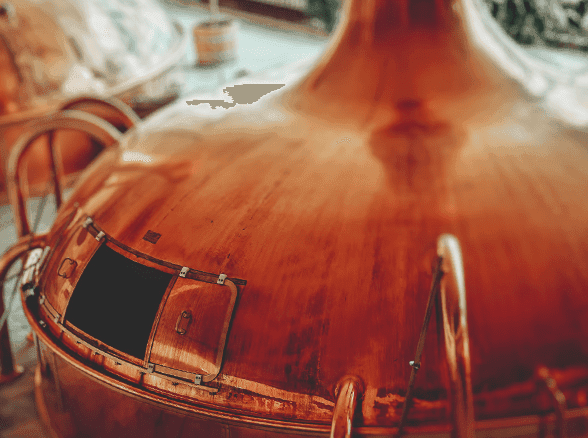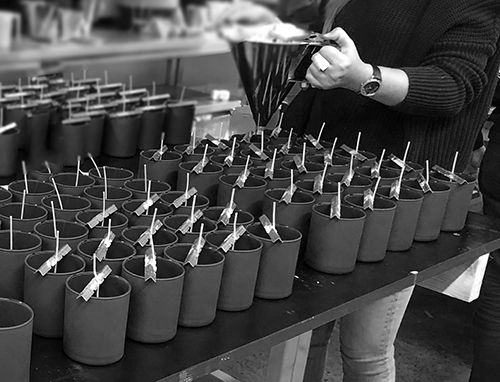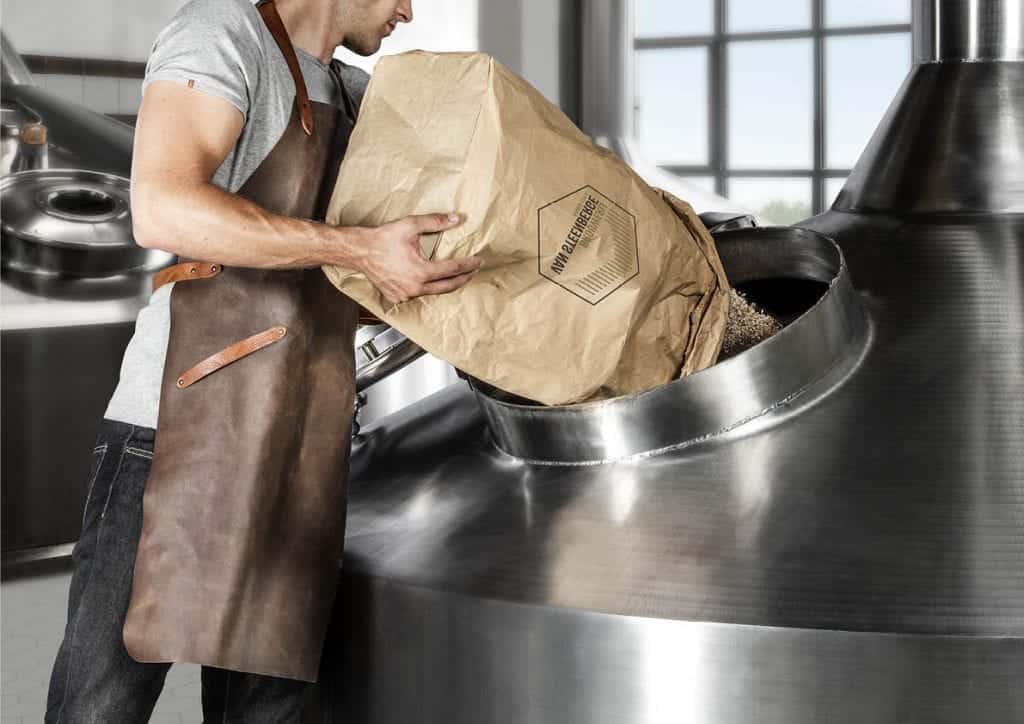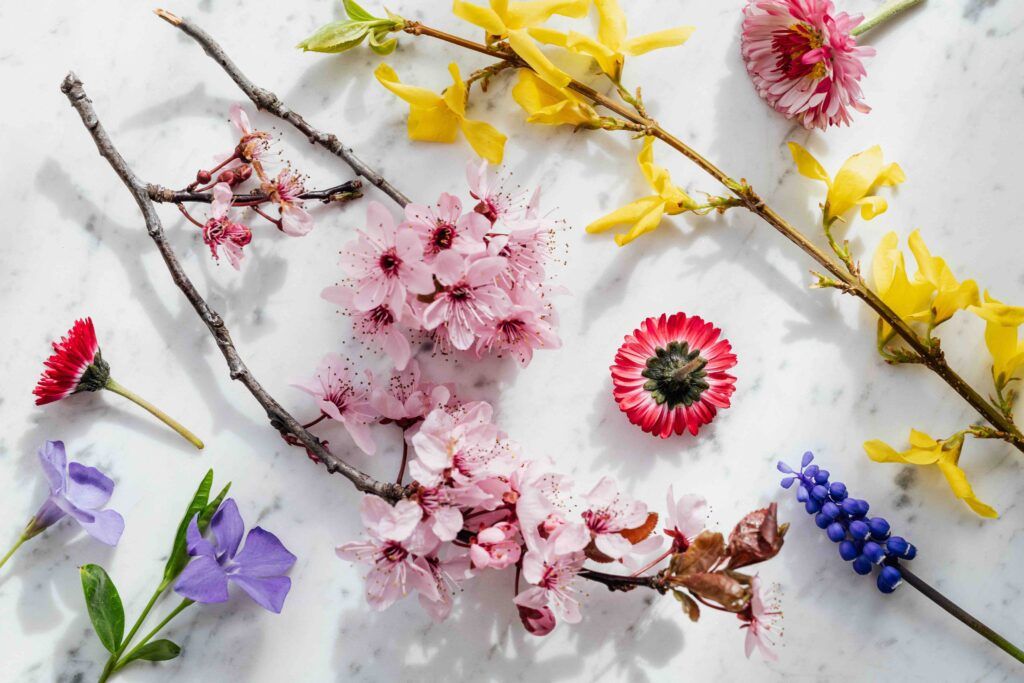 Featured Reviews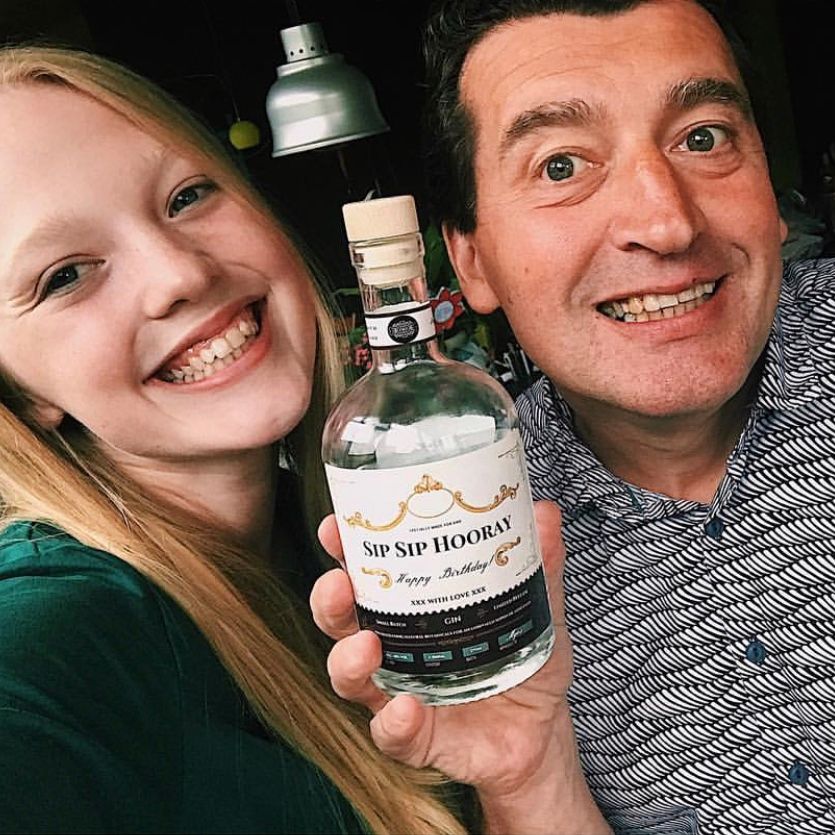 Sofie L.
It was my dad's birthday and I spent a long time looking for a nice product. With this bottle of gin, I immediately had the perfect gift. I also had it in the house within 2 days!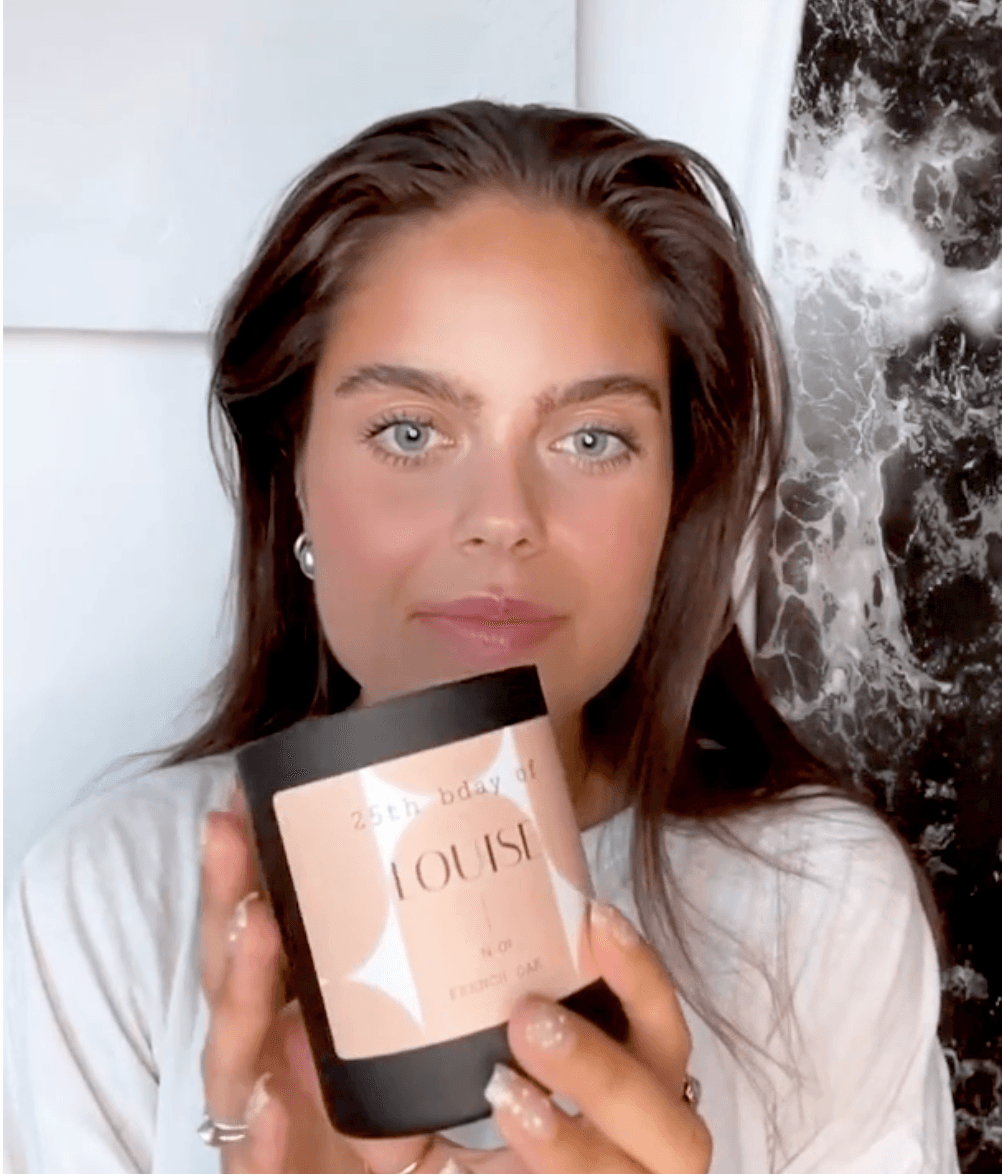 Louise T.
I am absolutely wild about this scented candle with my name. I received it for my 25th birthday. Highly recommended!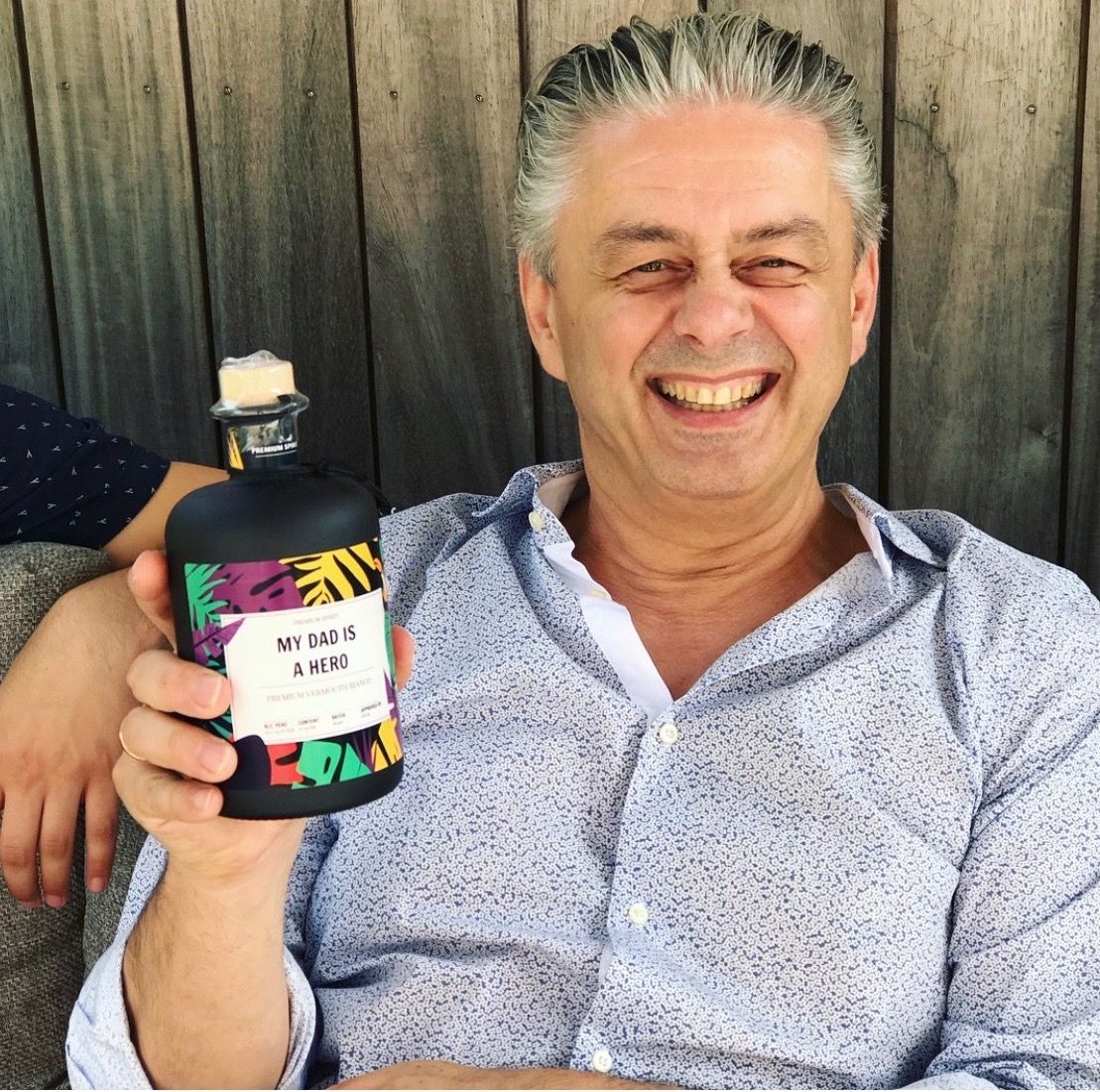 Heidi D.
I ordered Gin for my dad. Very good gin and he loved the personalised label. Very fast delivery. Perfect for a great unique gift.
Make your personalised gift extra fun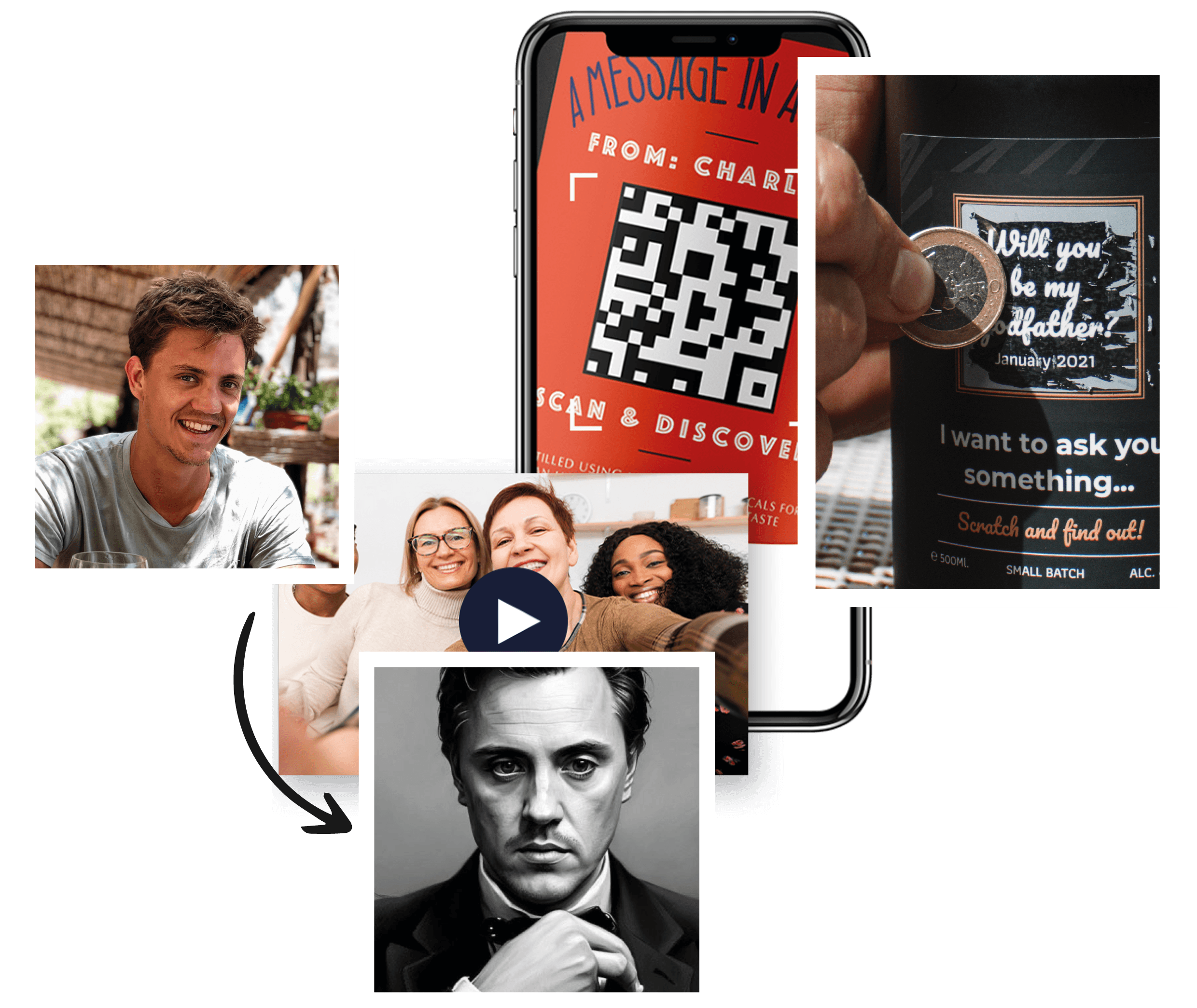 Hide a message behind a scratch layer
Add a QR code with a video or photo message
Artificial intelligence: transform your photos
The importance of a Valentine's Day gift
Valentine's Day is a celebration of love and affection between lovers around the world. Giving a Valentine gift is a wonderful way to express these feelings and show how much you care about your partner. Whether you give a simple, intimate gift or make an extravagant gesture, the most important thing is that the gift reflects your emotions and appreciation for your partner. Pamper your loved one this year with a Valentine's Day gift that could have come from Cupid himself. Even if you have decided that you are not going to participate in Valentine's Day, your sweetheart will still be secretly hoping for a romantic surprise on 14 February.
Personalised Valentine's Day Gifts 2024
Nothing shows attention to detail like a personalised gift. It proves that you have spent time and effort to come up with a gift designed specifically for your partner. A personalised Valentine's Day gift can range from our selection of specially selected spirits with a personalised message, an organic scented candle with their favourite scent, or bath salts for those much-needed moments of relaxation.
Six steps to a romantic gift for Valentine's Day 2024:
Choose your loved one's favourite drink or aroma
Decide on the bottle or candle size
Personalise a basic design and upload your own creation
Complete the order
Hand over at a romantic moment
Cushion!
Valentine gift with personal love message
His or her favourite drink or an organic scented candle is always an original Valentine's Day gift. Moreover, the personal charm you include in it shows that you not only like your sweetheart, but also know him or her well. For instance, you can put a loving photo of the two of you on the front and express your feelings for him or her on the back. Of course, with as many hearts and 'I love you' messages as you like.
Beautiful exterior, fantastic interior
Whether you put one of the basic designs to your heart or work out a completely custom design; the result will touch him or her. And then the best moment is yet to come: cracking the bottle of top quality together or enjoying the aromatic pheromones of the candle close together. Just like your partner, your Valentine's Day gift will not only look dazzling, the best is on the inside. So you're immediately in the mood for more ;). The only downside is that with such a romantic gift, you set the bar so high that you can never come up with another bouquet of flowers or box of chocolates!
Choose your Valentine gift for Valentine 2024
Valentine's Day gift for him
A man's love goes through his stomach. So with a personalised bottle of his favourite drink, you give him two things he loves: the drink and a thought of you. Finding the perfect Valentine's Day gift for him can be a challenge. But with our diverse selection of premium products, choosing the perfect gift is a piece of cake. Think of a liquor with his favourite brand or a scented candle with a scent that makes him relax. With our products, you can create a Valentine gift that truly reflects what he means to you.
Valentine gift for her
Women and bubbles, that's always ambiance. Especially when the cava is to her name or tells her she is still as bubbly as the first time. Otherwise, consider a rosé at a dinner for two, a bottle of white wine or a candle with scent as sweet as ta petite fleur. Choosing the right Valentine's Day gift for her can be tricky, but our wide selection of premium products makes it easy. Consider a luxury scented candle with her favourite scent, or a bottle of her favourite liquor personalised with a loving message. Each of our products allows you to create a Valentine's Day gift that really shows her how much she means to you.
Wish you were here
Do you have to miss your sweetheart on Valentine's Day or your love anniversary? Surprise him or her from afar and, failing yourself, have a Valentine's Day gift delivered that is almost as delicious. If only to show that you remembered this year.
Stories about the origins of Valentine's Day
The wildest legends circulate about the origins of Valentine's Day as the day when lovers give each other a Valentine's gift. Like all historical sources, you may have to cover their reliability with the cloak of love. After all, when it comes to history, you can never be sure whether they are facts or fables that the person entrusted to eternity at the time. One such story about the origins of Valentine's Day is so romantic that it is just appropriate to tell it on Valentine's Day.
Flowers for the needy
The name Saint Valentine first appears in the third century AD. Depending on the source, it was either a priest or a bishop. Just as realistically, both clerics are the same person, as the timeline and their story as Christian martyrs are almost identical and go like this.
When St Valentine was still simply called Valentinus, he did a lot of good for needy fellow human beings who sought his help. There were quite a few of them, because in those days Christians were hunted good. After all, all over the Roman empire the belief in various deities, Jupiter and his cronies, was in force and everything else was cause for persecution. Every time Valentinus visited someone, he gave that person a flower. Literally a Valentine's gift, a gift received from Valentinus.
Love above any law
One of the things he did was to marry soldiers in love. However, according to the then emperor Claudius, a good soldier was a bachelor, so he was prepared to die on the battlefield without remorse for wife and child. Valentinus felt that love was above any law and married many a couple on the sly.
As soon as he heard this, Claudius imprisoned Valentinus. Despite regular torture, Valentinus refused to renounce his faith. In prison, the convinced Christian met a jailer (other sources say governor) who was willing to convert in order to have his blind daughter cured by divine intervention. In turn, Valentinus was willing to forget his vow of celibacy for a while, as he left an eye only on the blind daughter.
Miraculous healing
When Emperor Claudius learned that he was suddenly stuck with a Christian jailer, he decided to literally give Valentinus a heads-up. Just before his execution on 14 February 270, Valentinus realised that if he wanted to be canonised, it was about time to perform a miracle. He wrote a note to the daughter which he concluded with 'From your Valentine'. After doing the necessary chopping, the daughter opened the note and a flower fell out. Suddenly, she could read the note.
Sustainable Valentine gifts
At a time when sustainability is becoming increasingly important, giving a sustainable Valentine's Day gift can be a very meaningful gesture. It is not only an expression of love for your partner, but also for the planet. Sustainable gifts such as a set of reusable glass bottles, bath salts in biodegradable packaging or candles made from natural ingredients are ways to express this love. These gifts are not only eco-friendly, but also offer a unique experience beyond typical Valentine's Day gifts.
Valentine gifts that make love grow
The beauty of Valentine's Day is that it is not limited to romantic love alone. It is also a day to show love and appreciation to friends, family and even yourself. Consider gifts that grow love and affection between you and the recipient. This could be a joint experience gift, such as a personalised cookbook for both of you, or a set of scented candles to enjoy together. These kinds of gifts not only create happy memories, but also strengthen the bonds of love and friendship.
The romance of Valentine's Day gifts
There is something intrinsically romantic about giving a Valentine's Day gift. It is an expression of love and affection that can create deep emotional resonance. This can range from a bottle of wine with a personalised label, to a set of scented candles that create a warm and inviting atmosphere. These gifts capture the essence of romance and can serve as lasting memories of your special day together.
The surprise of a Valentine's Day gift
The element of surprise can make a Valentine's Day gift truly unforgettable. Whether it is an unexpected gift that perfectly matches their personality, or a secret message hidden in a personalised bottle of liquor or scented candle, it can really surprise the recipient and leave a lasting impression. It's all about creating a special moment that they will never forget and that truly reflects the meaning and love of Valentine's Day.
Why do we celebrate Valentine's Day on 14 February 2024?
We celebrate Valentine's Day on 14 February 2024 to commemorate the legend of Saint Valentine, a priest who lived in Rome in the third century. Despite the strict rules of Emperor Claudius II who banned the marriage of young men, Valentine believed in the power of love. He defied the emperor's rules and continued to perform marriage ceremonies in secret. His courage and dedication to love are celebrated to this day. So, whether you have a partner or not, 14 February 2024 is a day to celebrate and show love and affection.
What does a man want for Valentine's Day?
What a man wants for Valentine's Day depends on his personal preferences and interests. For some, a personalised watch or a luxury shaving set may be the perfect gift. For others, an evening out to dinner at their favourite restaurant or a home-cooked meal may be just as valuable. The important thing is to know what your partner values and to choose a gift that shows you understand and appreciate them.
What does a woman want for Valentine's Day?
Women appreciate it when their partner takes the time and effort to choose a thoughtful and personalised gift for Valentine's Day. This can range from a beautiful necklace to a relaxing spa treatment, or even a homemade candlelit dinner. What matters is the thought and care put into the gift, and the love it expresses.
What is a nice gift for Valentine's Day?
A nice gift for Valentine's Day is something that is both thoughtful and personal. It can be a special experience, such as a romantic getaway, a cooking workshop or a wine tasting. It can also be a physical gift, such as a personalised picture frame with your favourite photo together, or a set of personalised mugs. What is important is that the gift comes from the heart and expresses the love and appreciation you feel for your partner.