Original Birthday Gift for Dads, Plus Dads & Grandpas
Your dad's birthday is a special occasion that needs to be celebrated. And what better way to do that than with a carefully chosen birthday gift?
At makeyour.com, we understand how important it is to find a birthday gift that perfectly suits your dad's personality and interests. That's why we have put together an exclusive selection of gifts specially designed to surprise him and show how much he means to you.
Why choose makeyour.com?
With more than 100,000 satisfied customers, we are known for unique gifts for unique gift moments
Only products of the highest quality
Razor-sharp printed gifts
Choose between more than 50 designs
Only products of the highest quality
Exclusive spirits recipes
Beers made in collaboration with brewery Van Steenberge
Natural Soy wax-based scented candles
High-class wines directly from small-scale winemakers
Paraben-free bath products
We guarantee quality and only offer products we fully support ourselves. Thus, our drinks and other products are made with love in collaboration with small-scale artisanal partners. Each product passes through extensive quality testing. For us, the content is at least as important as the looks of your gift. So you can be sure that your gift is of high quality.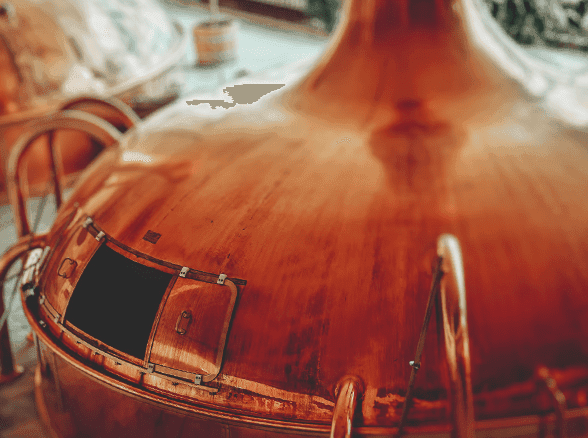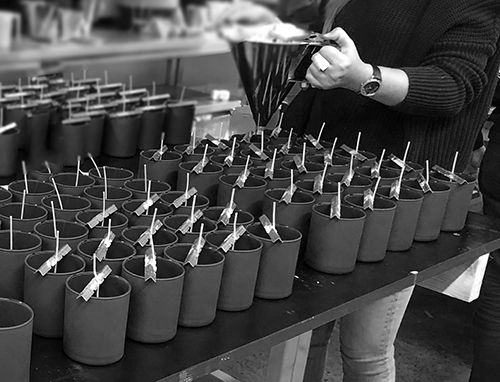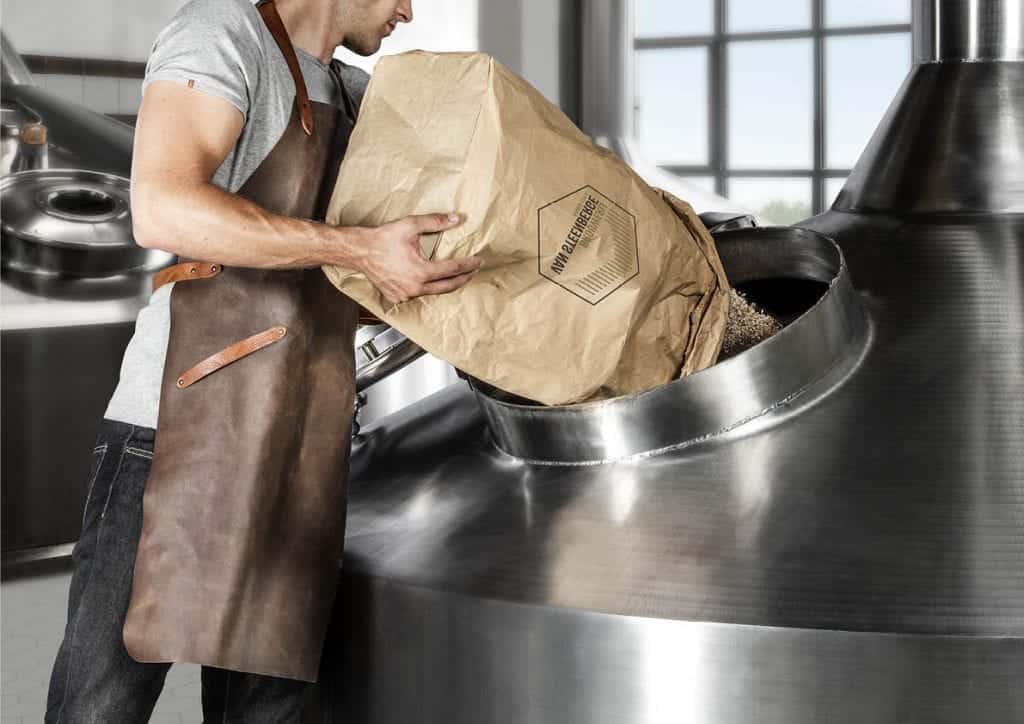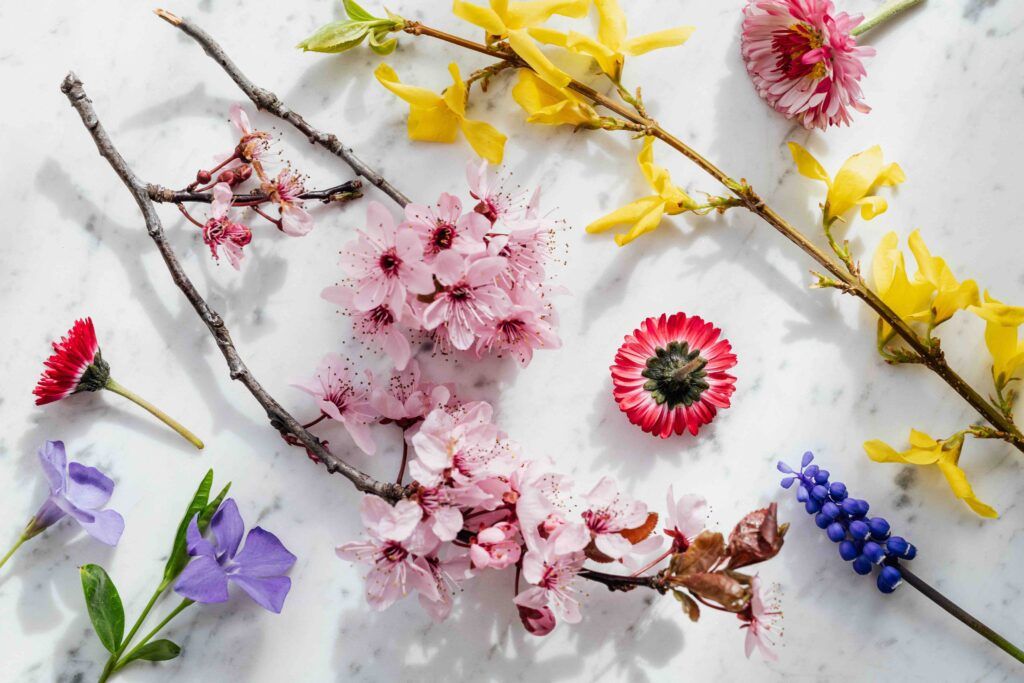 Featured Reviews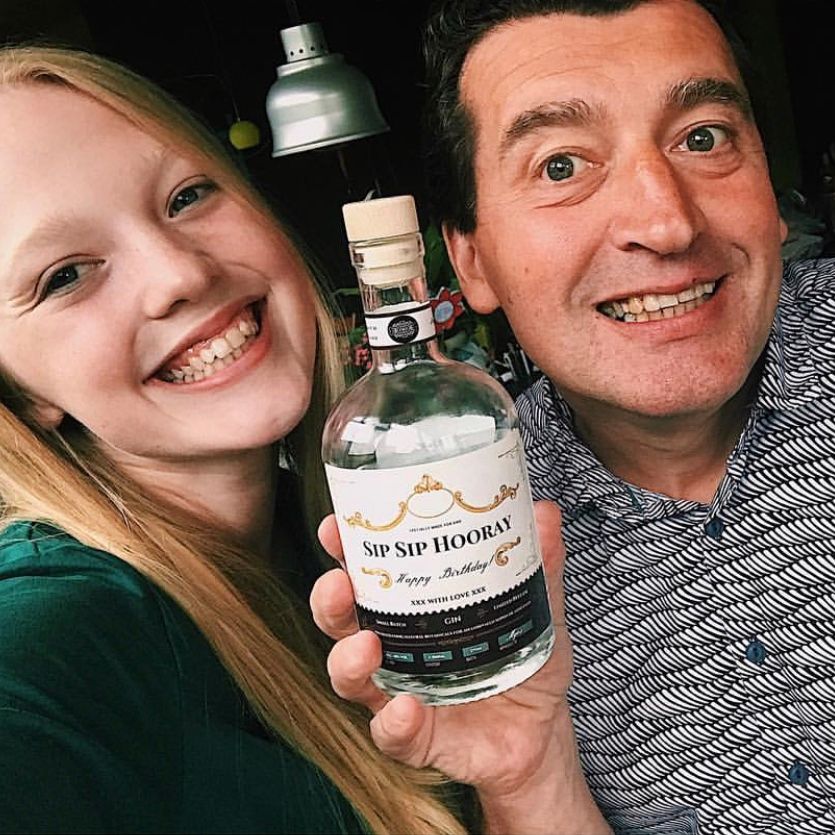 Sofie L.
It was my dad's birthday and I spent a long time looking for a nice product. With this bottle of gin, I immediately had the perfect gift. I also had it in the house within 2 days!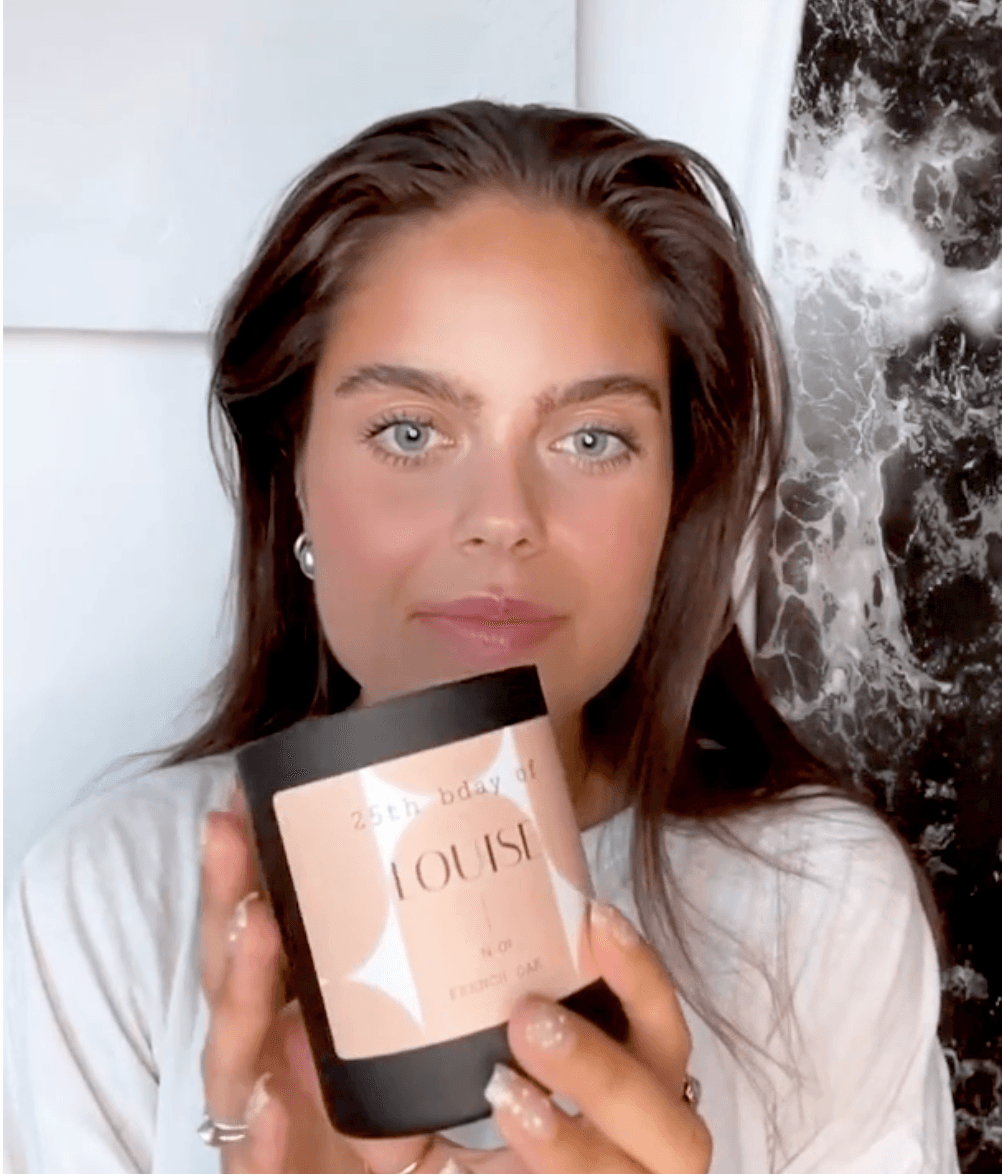 Louise T.
I am absolutely wild about this scented candle with my name. I received it for my 25th birthday. Highly recommended!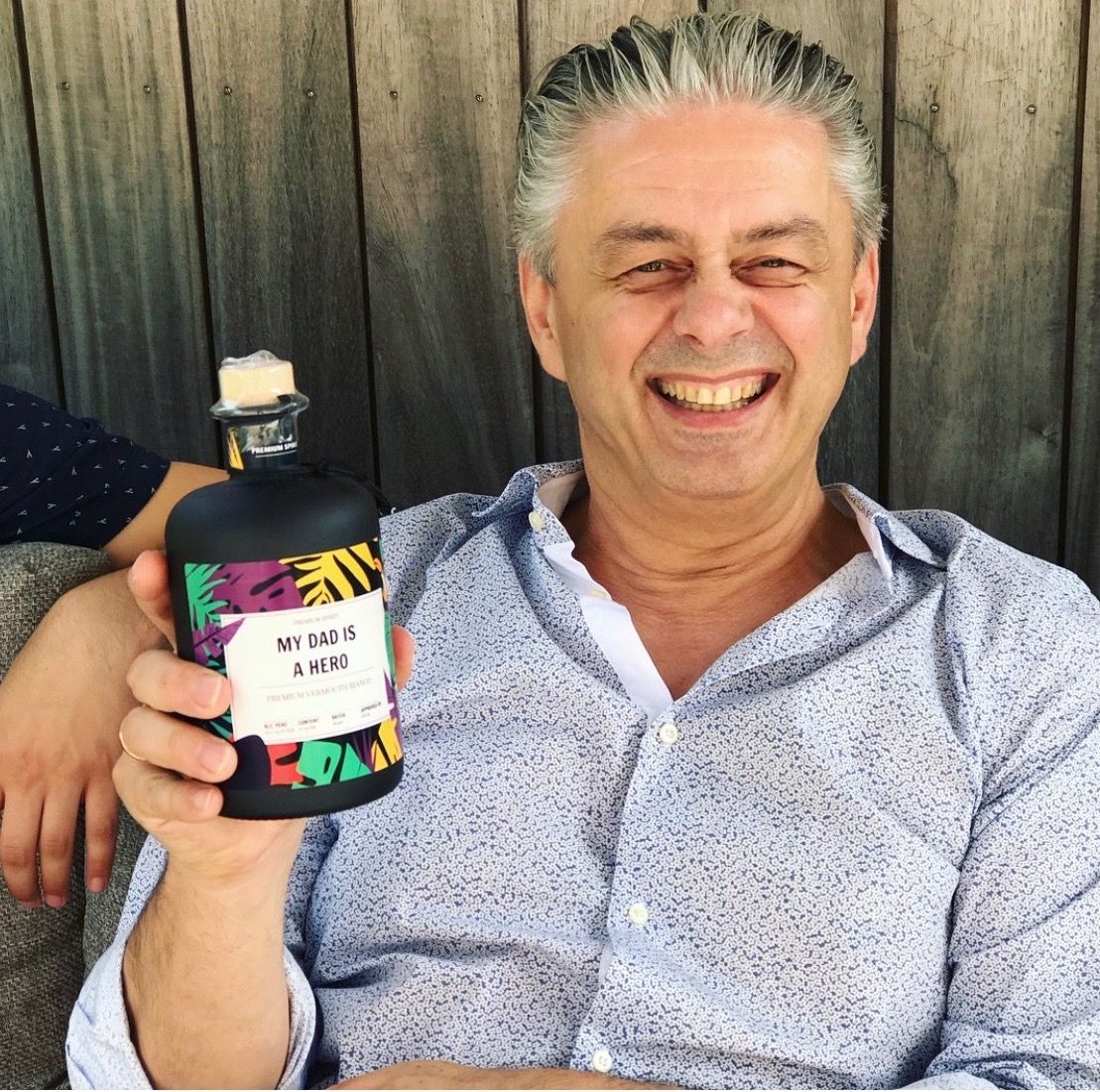 Heidi D.
I ordered Gin for my dad. Very good gin and he loved the personalised label. Very fast delivery. Perfect for a great unique gift.
Make your personalised gift extra fun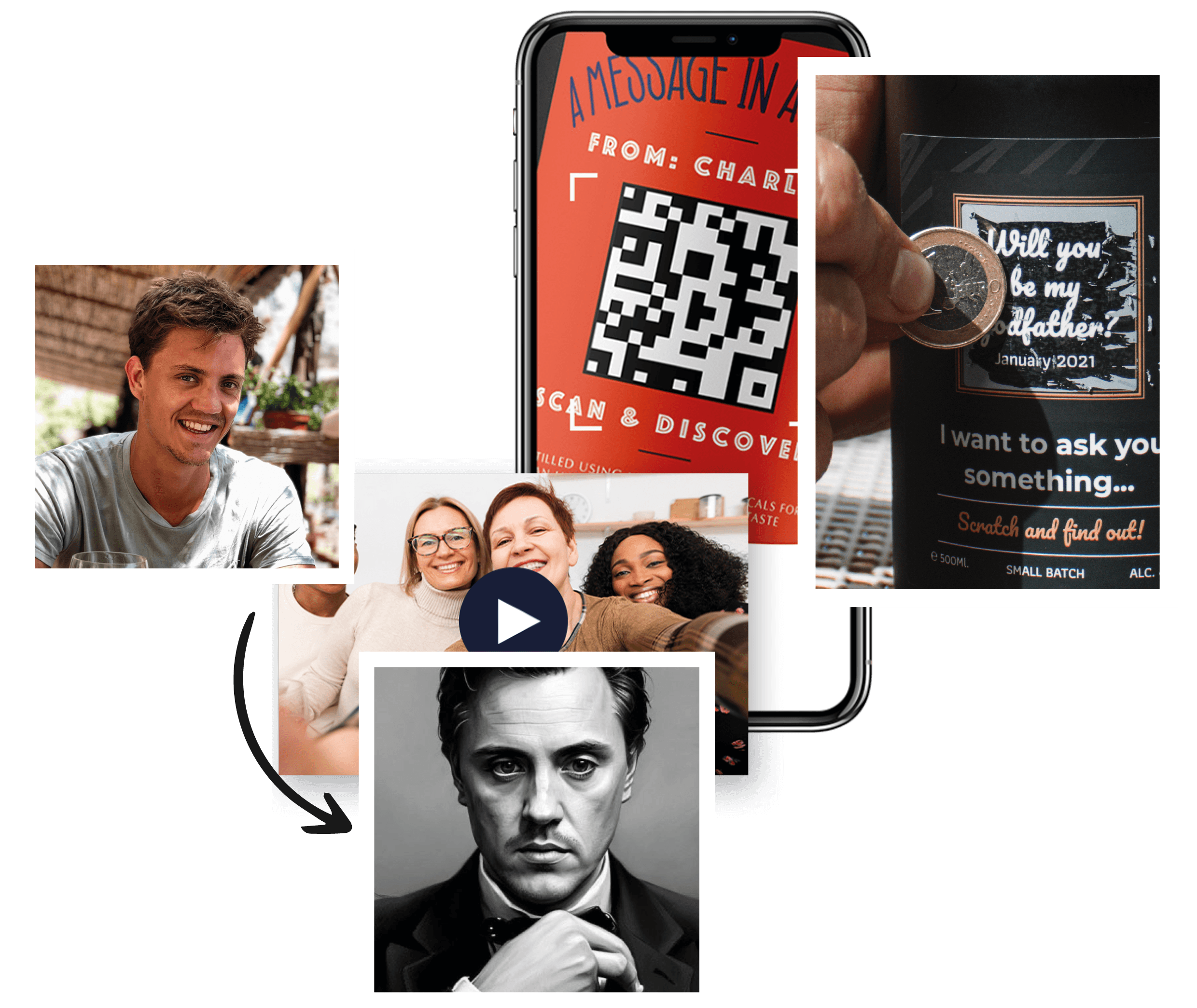 Hide a message behind a scratch layer
Add a QR code with a video or photo message
Artificial intelligence: transform your photos
The Meaning of Birthday Gift for Fathers
Giving your father a birthday gift goes beyond the material aspect.
It has a deeper meaning and can have a positive impact on your relationship. A well-chosen gift shows appreciation and love, and can strengthen the bond between fathers and children.
It reminds us that we acknowledge our fathers and want to make the effort to make them happy on their special day.
A Craft from Then, An Emotional Gift for Now
Remember those cute little crafts you used to make for your dad? With pride and care, you created little masterpieces with your own hands.
And to this day, your father has kept those little works as precious treasures that remind him of your unconditional love.
It is not always easy to express our emotions directly or simply say to our father, "Daddy, I love you."
But in those very moments of creativity and devotion, when you made crafts, your father knew exactly how much you cared about him.
It was a silent expression of love, wrapped in coloured paper and decorated with glitter and tape.
At makeyour.com, we understand that feeling. That's why we want to give you the opportunity to bring back that emotional value in your gifts.
Our personalised products are like modern versions of those crafts of past times.
They are gifts made with the same care and attention, but now with high-quality materials and a sophisticated finish.
When you give your dad a personalised gift from makeyour.com, you are not just giving him a gift. You are giving him a piece of yourself, an expression of your love and appreciation.
It is a gift that will make him smile and cherish it with pride, just like he did with your crafts of yesteryear.
And let's face it, it's reassuring to know that the gift you make with makeyour.com is a high-quality gift.
Our products are carefully designed and manufactured with craftsmanship and attention to detail.
They are made to last and show the recipient that you have taken care in choosing the gift.
So with a personalised gift from makeyour.com, you show your dad that you have paid attention to selecting something unique and special.
It is a gift that will stand the test of time and will remind him time and again of the special bond you share.
Let your dad know you care about him with a gift that is genuine and personalised. Explore our selection of personalised gin, personalised spices, personalised olive oil, personalised wine and more at makeyour.com.
Choose something that perfectly suits his taste and personality and make his birthday a memorable occasion.
A Special Birthday Gift for your Father: Personalisation with makeyour.com
Your father's birthday is a special occasion to show him how much he means to you. And what could be more personal than a gift made especially for him?
At makeyour.com, you can find a wide range of personalised products that are perfect for celebrating your dad's birthday.
Personalised Gin: If your dad is a lover of gin, why not gift him a bottle of personalised gin? At makeyour.com, you can choose a bottle of gin and personalise it with his name, a special message or even a photo. It will be a unique and memorable gift that he will surely appreciate.
Personalised Herbs: If your dad loves being in the kitchen and loves to cook, consider giving him personalised spices as a gift. At makeyour.com, you can choose a set of different spices and personalise them with his name or a personal message. This way, he can make his favourite dishes even tastier with his own personalised spices.
Personalised Olive Oil: For the dad who loves cooking and good food, personalised olive oil is a great gift idea. At makeyour.com, you can choose a bottle of olive oil and personalise it with his name or a special message. It will not only be a tasty gift, but also a token of appreciation for his culinary talents.
Personalised Red Wine: If your dad is a wine lover, you can surprise him with a bottle of personalised wine. At makeyour.com, you can select a bottle of wine from an extensive collection and give it a personalised label with his name, a photo or a special message. It will be an elegant and personalised gift that he can share with friends and family during his birthday celebrations.
With makeyour.com's personalised products, you can give a gift that is not only practical and tasteful, but also has a personal touch. Your father will surely be impressed by the care and attention you have put into choosing such a special gift.
The Importance of Personal Connections in a Father's Birthday Gift
When choosing a birthday gift for your father, it is essential to make a personal connection. Our cutest gifts make this very easy for you.
Because let's face it, sometimes it's easier to express those big feelings indirectly than to express them a lot.
A gift that has special meaning and is unique to your relationship can leave a lasting impression.
Consider, for instance, a photo book with your shared memories, an engraved pendant with a personal message, or a self-written poem that reflects your bond.
Such gifts show that you have taken the time to create something special and that you recognise the value of your relationship.
Birthday gift Father: Creating Memories
One special aspect of a gift for your father is that it allows you to create memories. It's not just about the material aspect of the gift, but mostly about the emotional value behind it.
Here are some gift ideas that will not only put a smile on your dad's face, but also help create precious memories because a personalised gift for dad definitely scores:
a personalised photo collage: use our photo templates to put fun photos of your dad and you on his cutest drink
gift with a video message: add a qr code with a video message especially for your dad. Sure he will watch it a lot!
gift with scratch layer: with you as his daughter or son, he won the lotto, right? Let him scratch your design again and discover a secret message with our scratch card designs on the product of your choice.
Birthday gifts for Fathers with Special Interests
Another approach is to select birthday gifts that match your dad's specific interests and hobbies.
By keeping his passions in mind, you can find a gift that really touches him.
For example, for a sports fan, you could think about tickets to a game of his favourite team, signed memorabilia, or a new piece of equipment.
If your dad loves cooking, consider a cookbook from his favourite chef, high-quality kitchen utensils or a culinary experience. Showing that you understand his interests will make your gift extra special.
The Different Types of Dads in Our Lives
Throughout our lives, we encounter different types of dads, each with their own unique contribution to who we are.
There is the loving dad, who is always ready with a hug and advice.
The adventurous dad, who inspires us to try new things and push our limits.
The funny dad, who makes us laugh and brings lightness to our lives.
The supportive dad, who is always there to encourage and support us no matter the circumstances.
Each type of dad is important and has a special place in our hearts.
Choosing a birthday gift for your dad is a chance to honour him and show how much he means to you.
It is an opportunity to celebrate and acknowledge his unique role in your life.
So, next time you are looking for a birthday gift for your father, think about the meaning behind the gift, the personal connection it creates, and the special role your father plays.
With the right thought and care, you can find an original and valuable gift that will warm his heart and put a smile on his face.
How to put a dad in flowers? Because flowers and dads are often not a match!
we created a whole collection of easy-to-order gifts especially for your dad.
Plus point: these gifts for dad are personalised gifts!
Gift for your dad tip 1: Personalised beer package
Gift for your dad tip 2: Personalised Whisky
Gift for your dad tip 3: Personalised Hot Sauce
Gift for your dad tip 4: Personalised BBQ Seasoning
Gift for your dad tip 5: Personalised Red Wine
Still looking for another great gift for dad? Then be sure to check out our full list of dad gifts:
The Different Types of Dads in Our Lives
Besides our biological fathers, there are other important figures who fill the role of dad in our lives. Think grandpas, stepdads, plus dads and other father figures.
These men have a special place in our hearts and contribute to our growth and development. Each of them has their own unique qualities and impact on our lives.
Grandpas:
Grandpas are a source of wisdom and love. They often have a special bond with their grandchildren and often spend unforgettable moments with them.
Grandpas can pass on valuable life lessons and act as a source of support and comfort.
Step-dads:
Step-dads are men who choose to be a father figure to children who are not their biological children. They are devoted and give unconditional love to their stepchildren.
Step-dads play an important role in creating a stable and loving environment, and they can have a lasting impact on the lives of their stepchildren.
Plus dads:
Plus dads are men who enter into a relationship with someone who already has children. They embrace the role of dad and form a strong bond with their plus children.
Plus dads are there to listen, support and care for their plus children, and they can become an important part of their lives.
As diverse as the dads and fathers in our lives are personalised gifts from makeyour.com.
Special Moments in the Relationship with Your Dad
In our relationship with our dads, there are special moments that we cherish and that leave a deep impression on us.
These moments are often filled with emotion and meaning, and they form the strongest memories we have of our fathers.
Here are some of those special moments:
First time your father held you: The moment your father held you in his arms for the first time is a moment filled with love and tenderness. It symbolises the unconditional bond between father and child.
Having adventures together: Whether it's building a tree house, camping in nature, or playing a sport together, the adventures you have with your father create lasting memories and strengthen the bond between you.
Father-daughter or father-son moments: These moments when your father guides you, teaches you and inspires you are crucial for your personal growth. They are valuable moments of connection and building a strong relationship.
Celebrating important milestones: Celebrating important milestones in your life, such as graduation, your first job, or starting your own family, with your father by your side, strengthens the bond and pride he feels for you.
Support and comfort in difficult times: When life becomes challenging and we face setbacks, it is our father who offers us support and comfort. His presence and reassuring words can help us through difficult times.
Personalised birthday gifts father: for every moment
Apart from birthdays, there are many other special moments when dad deserves a special gift. Here are some occasions to put dad in the limelight:
Dad-to-be gift: The moment when a man becomes a father for the first time is an unforgettable event. Surprise the dad-to-be with a personalised gift that celebrates his new role as a father and prepares him for the adventure ahead. It is a gift full of anticipation and love.
Father's Day gift: A day dedicated to celebrating fathers everywhere. On Father's Day, it is time to show your appreciation for all the love, support and guidance your father has given you. Choose a unique personalised gift to show your gratitude and show him how special he is to you.
Anniversary gift: Celebrating the love and devotion between parents is a wonderful occasion. On your parents' anniversary, you can give a personalised gift that celebrates their special bond and reminds them of all the wonderful moments they have shared together.
Father-daughter/mother-son dance gift: A magical moment at weddings when the father and daughter or mother and son dance together. Give your father a gift that immortalises this special moment and reflects his pride and love for you as his child.
Retirement dad gift: Reaching retirement is a milestone in your father's life. It is the time when he can enjoy his free time and have new adventures. Give him a personalised gift that reminds him of his achievements and inspires him to pursue his dreams.
Father's Day every day gift: Let's face it, every day is a chance to show your appreciation for your father. An unexpected gift, a loving gesture or just a sincere "I love you" can make your father's day. It is important to let your dad know that you are always thinking of him and appreciate him.
At makeyour.com, we understand how important these moments are and we have a range of personalised gifts that are perfect for any occasion.
Whether it's the dad-to-be, an anniversary or just an everyday celebration of the bond between father and child, we have the perfect gift to make these moments even more special.
The Power of the Bond with Your Dad
The bond between a father and child is unique and precious. It is a bond built on love, understanding, support and memories.
With different kinds of dads in our lives and the special moments we share, we grow up with a sense of security, trust and being loved.
So, when thinking about birthday gifts for our dads, it is important to keep this special bond in mind.
It is not only the gift itself, but also the meaning behind it that matters. A gift can serve as a symbol of appreciation, love and gratitude for all that our fathers mean to us.